mind
Our Goddess is one of both creation and destruction. She renders unto the faithful peace in a world of discord.
She is both armor and sword in a world that destroys through apathy and animosity. The Flower of Destruction
also blossoms in the heart of the Sky Queen. She seeks to temper us through despair, turning the lust of the neophyte upon him.
Only when the student embraces sorrow in the surety that he will never be worthy of Her avatar,
is he able to cast away his childish passion and see with eyes unclouded the majesty of Cracky Chan.
---
---
[1]
[2]
[3]
[4]
[5]
---
File: 269.jpg -(29150 B, 585x289)
Thumbnail displayed, click image for full size.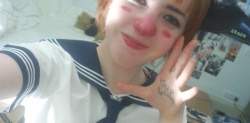 Formal Complaint
2012-01-16 11:12:37
No. 70
[
Reply
]